When we say "Our Dogs" these are the dogs who not only live with us, but those that helped make Lighthouse Kennels the success it is today, those that continue the tradition and those that will help it grow in the future.
These dogs helped us form the basis of our kennel and make it the success that it is today: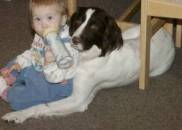 Grouse Wings Alexandra
(FC AFC Dansmirth's Wavecrest Fete SH X FC Spiked Moon Pie, MH)

DOB: 05/12/92 Color: White & Liver Sex: Female Call Name: Lexi
Health Clearances: OFA Good, CERF 1999, PFK clear

Lexi is our foundation. She has given us the happiest, most enjoyable pups in our breeding program, and the ones we expect to figure prominently in our pedigrees. We are grateful to the Bourn family for letting us lease her for two litters and for letting us share her company during her pregnancies. (Pictured with Bethany Bourn).

---
FC AFC Dansmirth's Wavecrest Fete SH
(CNFC Windmillwood Storm X Dansmirth's Bit A Con )

DOB: 05/24/90 Color: White & Liver Sex: Female Call Name: Fete
Health Clearances: OFA Excellent, CERF 1999, PFK clear.

Bred by Marie Langhans, Fete was Jason's first field trial dog, first champion, first success at a National (earning two Certificates of Merit), and the list of "firsts" goes on and on. Mother of the littermate National winners, NFC FC Lighthouse Reverence and NAFC AFC Upcountry Lighthouse Amos, she was a great mom and wonderful companion. In her senior years she lived with Tom & Mary Stibbe, whom she absolutely adored. Mary put her Senior Hunter title on her and Tom hunted her. She is sorely missed by all who loved her. Please click here to read her tribute.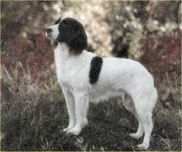 ---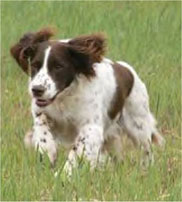 FC Spiked Moon Pie MH
(Dansmirth's Spike Punch X Brandywine's Darling Daisy)

DOB: 05/24/95 Color: Liver & White Sex: Male Call Name: Pie
Health Clearances: OFA Good, OFA Cardiac, thyroid panel normal (MI State), CERF 2007, PFK clear

Pie embodies all that we love about this breed. He has an outstanding, happy temperament and is an incredible natural retriever. He is an excellent hunting dog who never quits because he does not have to–his endurance is fantastic, even at an age where most hunting dogs are being left at home. He is equally at home hunting pheasant, grouse, or retrieving ducks. Pie gets along with everybody of any age, be they canine or human. He is never shy, never anxious, never a bully. Pie is also one of those dogs who, at his best, produces the traits we want out of him and improves upon himself. His daughter, FC CFC Lighthouse Drive Me to Drink, and son, FC CFC Lighthouse Samwise SH, are shining examples of the kind of dogs we are trying to produce in our breeding program. His stud and field trial records are available.