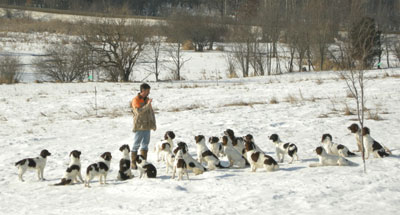 At Lighthouse Kennels we strive to be a leader in dog behavior. We enjoy the happy-go-lucky attitude of spaniels and keep our training style just as fun. We believe in using positive repetitious exercises. By taking small successful steps in training the dogs learn how to do things right the first time and avoid developing problems.
On occasion we do use electric collars set very low with the purpose of being an annoyance to the dog when they are behaving improperly. As an example, when instilling chase control in a non-steady dog, the collar would be used at the lowest possible setting that will cause a reaction in the dog. When a dog is chasing a bird and ignoring the recall whistle the collar would be used until the doge responded to the whistle. When the dog returns he is rewarded with a short retrieve. In this manner, the dog learns in happy and positive way not to chase missed birds for hundreds of yards. We often encourage hunting dog clients to use e-collars to ensure safety of their dogs while hunting.
We do not use barrel racing or collar force breaking methods that some spaniel professionals are currently using. Although these methods can be effective we do not feel it is in the breed's best interest, nor does it mesh with our personalities here at Lighthouse Kennels. We do enjoy the use of place boards and the mental development that is accomplished with the dogs through their use.
Our goal is to bring out the natural talent of your dog.